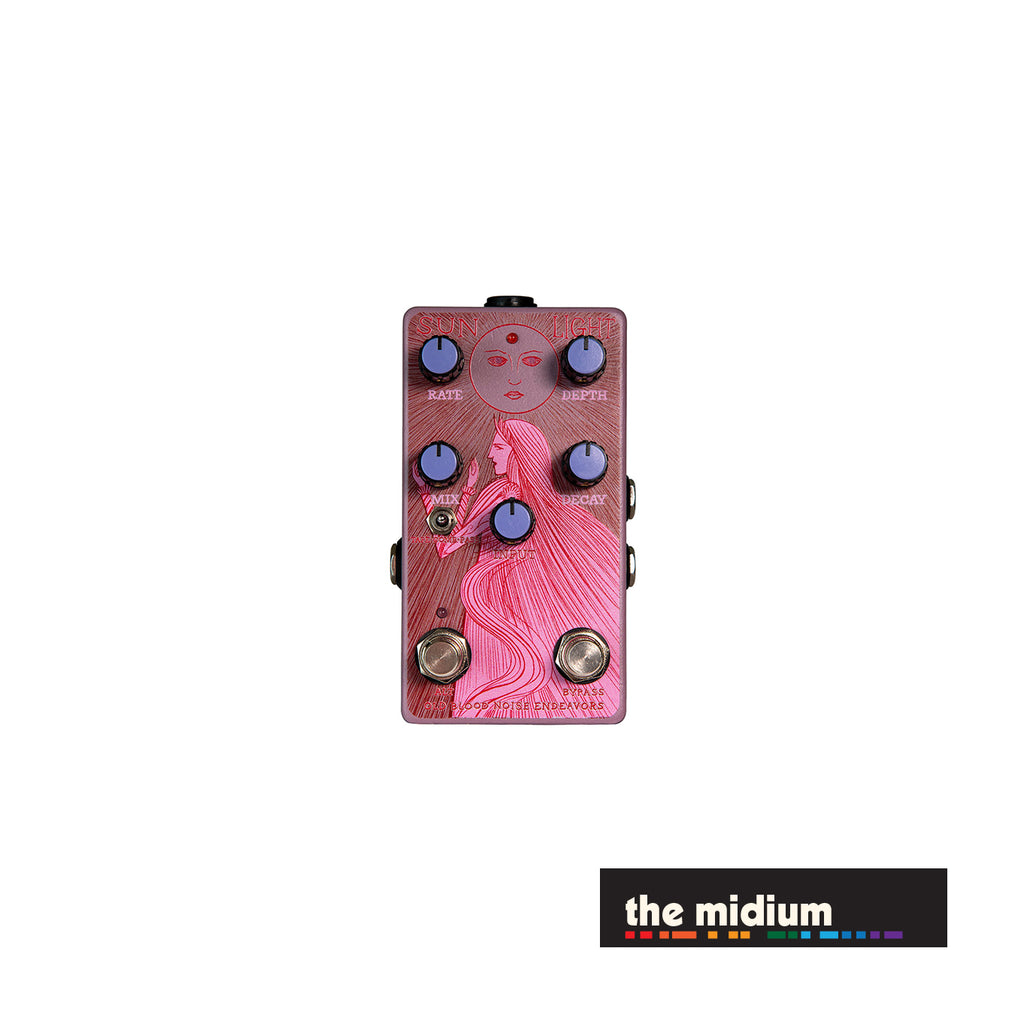 Old Blood Noise Endeavors's description of the Old Blood Noise Endeavors Sunlight dynamic reverb
THE MIDIUM® CURATOR'S NOTE: Signature Edition

Recognizing the people behind a musical instrument's creation is as vital as recognizing the artist who plays it and the audience who appreciates it. In that spirit, The Midium® asked Brady Smith of Old Blood Noise Endeavors to please sign a run of their Sunlight dynamic reverb pedals in our collection. It is The Midium®'s hope that you feel a deeper connection with your Old Blood Noise Endeavors Sunlight dynamic reverb Signature Edition, with the knowledge that the makers have added a personal touch to the units in our collection. We hope you enjoy this special pedal, as it contrasts with other reverb pedals, such as the Dark Star, by Old Blood Noise Endeavors.
SUNLIGHT DYNAMIC REVERB
Playing on the relationship between pedal and player, input and output, OBNE presents Sunlight dynamically held reverb. Sunlight features three new reverb algorithms unique to the OBNE lineup, each with the added ability to freeze the reverb trails when the player stops playing.
Sunlight features:
Input knob for dynamic sensitivity and Decay knob for reverb feedback to create enveloping infinite reverb

Tape, Comb, and Pass modes to apply wobbling vibrato, stacked resonant delays, or random step filtering to the reverb

Rate and Depth controls specific to each mode

Expression control over Input, Decay, Rate, and Depth parameters

Alt footswitch to quickly snap to a particular knob setting

Soft-touch switching with true relay bypass

Requires 9V 2.1mm negative center-pin power adapter (not included).

mA Draw: 80

 
Sunlight art by Jon Carling
Due to supply chain shortages you may see some Sunlight pedals with purple knobs. you may also see them with Red knobs. You may also see them with clear knobs. These are all official versions of the Sunlight, just being produced in the hectic year of our lord, 2021.