Strymon's description of the Strymon Compadre dual voice compressor & boost pedal

Your Dream Tone Starts Here.
Start your signal chain with the best possible version of your guitar tone. Treat your guitar signal to true studio quality analog compression with two distinct voices for smooth transparency or vintage squeeze. Hit the Boost switch to add clean boost or soft-clipped dirty boost, with the EQ curve of your choice. Mix in some dry signal for natural attack even with extreme compression settings. Feel the perfectly tailored dynamic response, feeding your amp and effects just what they need to sound their best.
From pickups, tubes, capacitors, to speaker cabinets—the aspects of a rig that can be upgraded or changed are nearly endless. Plug in Compadre and you may find you already have everything you need for the tone you've been seeking.
Bring out your amp's character in ways you never thought possible. Compadre's Class A JFET input circuit, studio quality analog compression, and musically voiced analog boost circuits all work together to make your amp sound like it was just modified by a world-class boutique amp designer.
Super Flexible, Super Easy.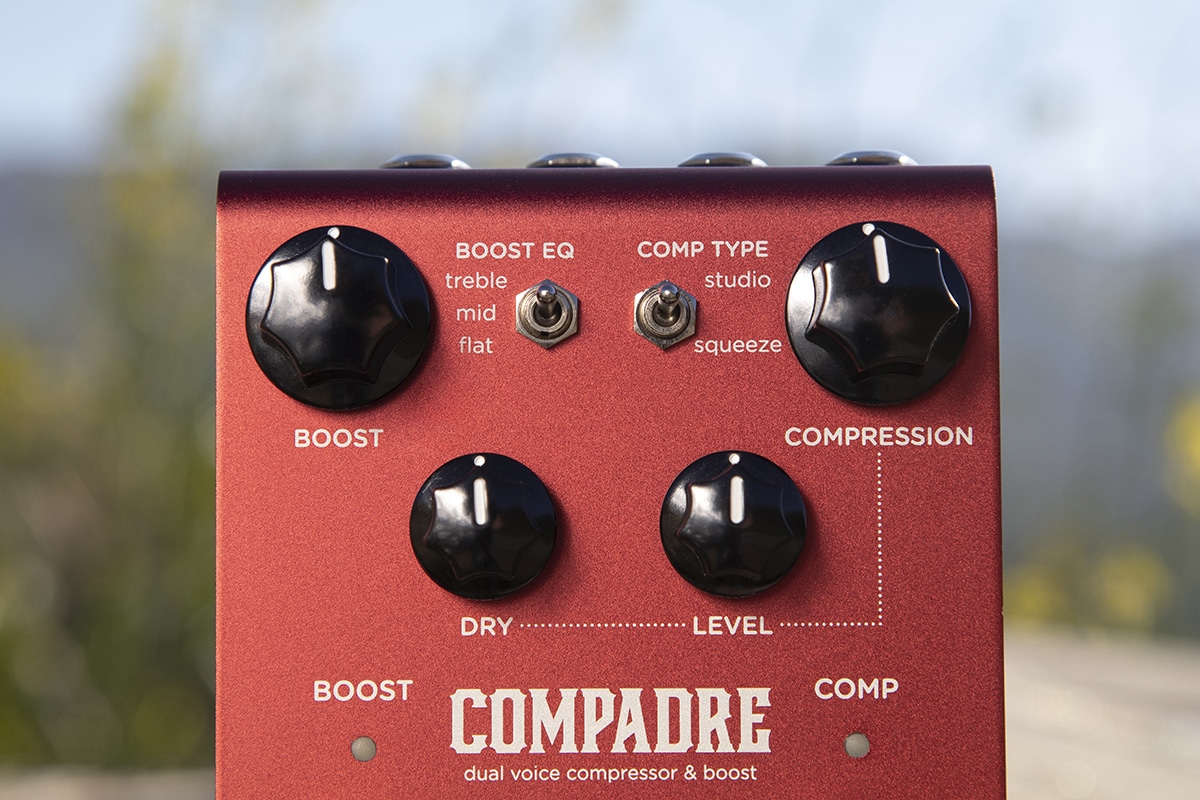 Compadre gives you everything you need to shape your front end tone, and nothing to slow you down. Auto makeup gain and auto threshold mean that all you have to do is turn up the Compression knob to dial in the desired amount. Compadre's wide variety of tone shaping features are all designed to easily sound great across a wide variety of settings.
Two Distinct Analog Compression Circuits.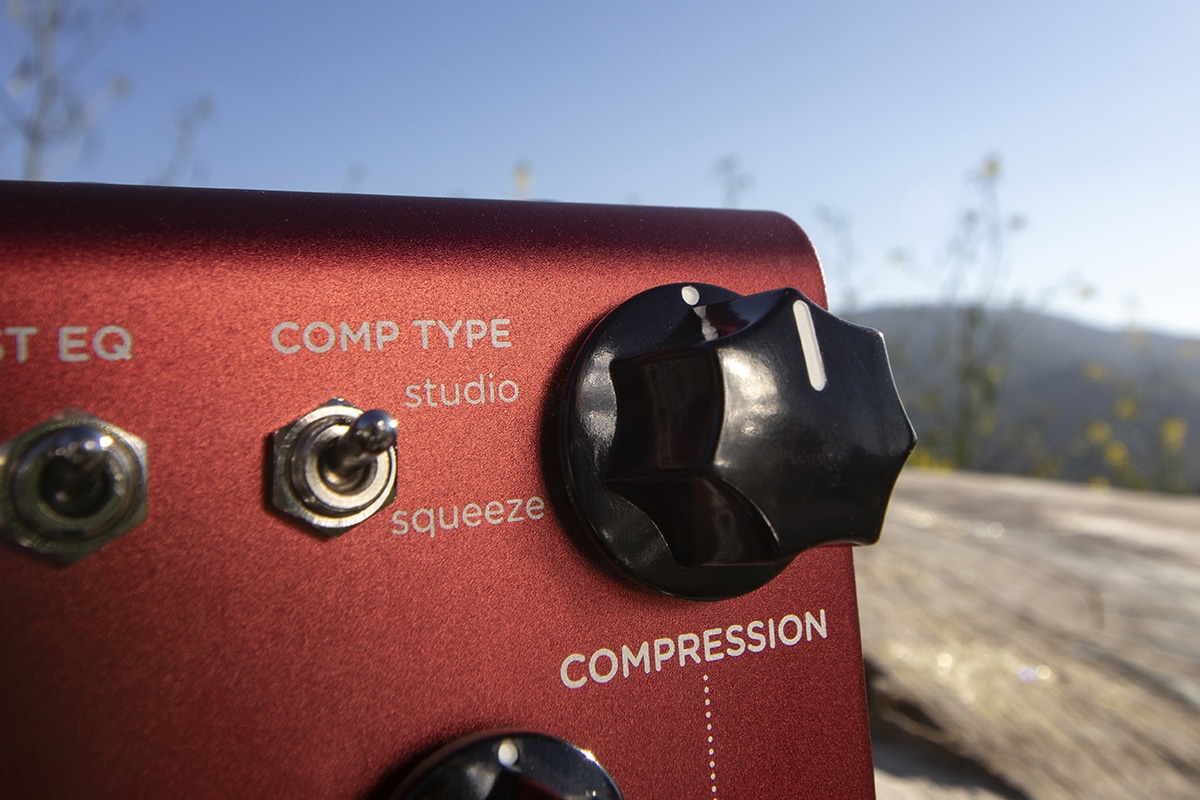 Choose between two compression circuits, each with its own unique character. Studio mode gives you the smooth, beautifully transparent compression typically found in the best vintage studio rack units. For a harder compression effect typical of classic guitar pedals, Compadre's Squeeze mode is designed to deliver heavy compression with maximum sustain.
Boost the Sweet Spot, Clean or Dirty.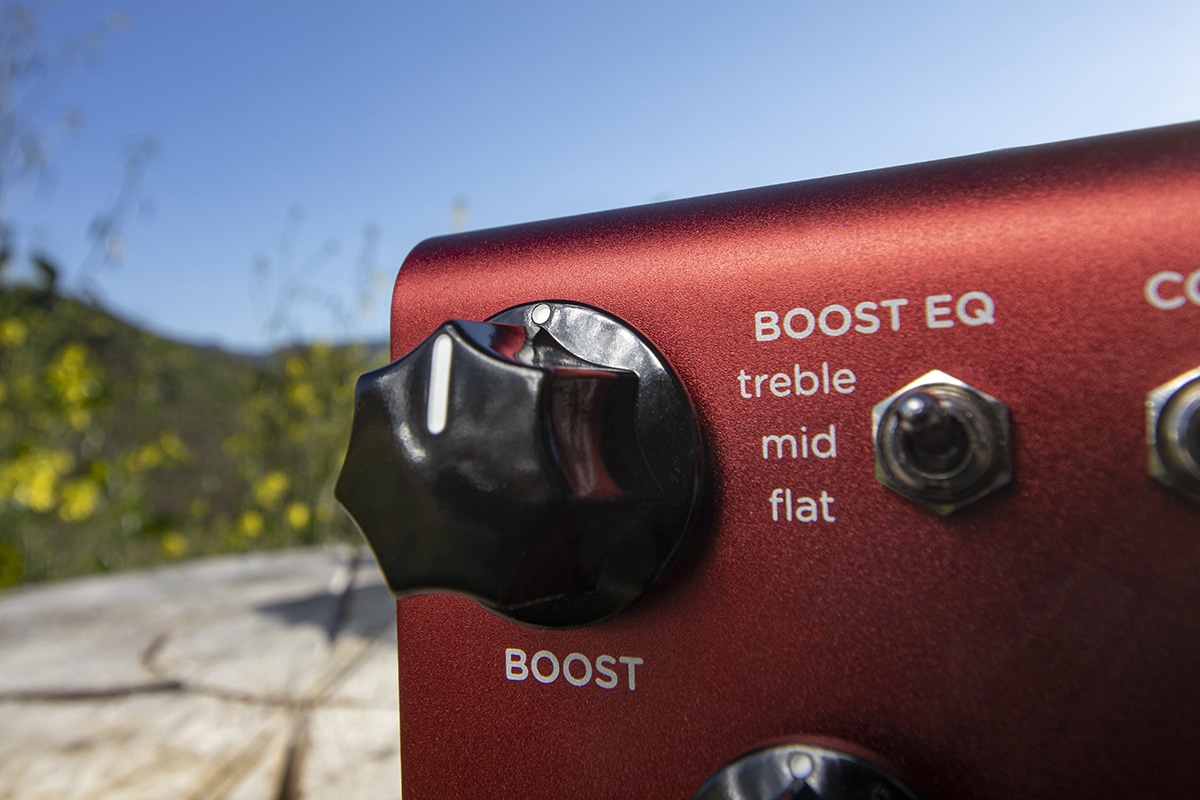 Compadre gives you two distinct analog boost circuits: a clean boost, and a dirty boost that introduces soft clipping, characteristic of an overdrive pedal. The selectable boost EQ ensures the perfect compliment to any guitar and amp combination. Add sparkle and shine with a treble boost, fatten your tone with the midrange boost, or level up the full frequency range with flat mode.
Connect an expression pedal to add premium VCA-based volume control. Add an optional MiniSwitch or MultiSwitch Plus to store and recall your favorite settings. Integrate Compadre into a MIDI pedalboard using our MIDI EXP Cable and access up to 300 preset locations.
Vintage Inspiration, Modern Execution.
The Compadre design project started with a study of some of the finest analog compressors ever created, inspiring and guiding our circuit design process. Utilizing a VCA in the compression circuits allowed us to carefully tune the exact response and dynamics we desired for each voicing.
For Studio mode, our goal was to achieve the musical and transparent sound found within our favorite studio rack units and the best vintage studio console bus compression. Careful tuning of our detection circuit granted us exacting control over decay, especially important for Squeeze mode. With ample sustain on tap, we paid special attention to creating a completely smooth decay, with no unwanted pumping artifacts.
Two Pedals in One
Independent Boost and Compression

For maximum versatility, Compadre allows you to use its Boost and Compression either together or independently from one another.
In this way Compadre is truly two pedals in one. Put that together with the ability to store and recall presets using MultiSwitch Plus or MIDI, and the possibilities are limitless.
Parallel Compression
Parallel Compression

Compadre's Dry knob allows you to add the desired amount of dry signal back into your tone, in parallel with your compressed signal.
This way, even with the most extreme compression settings, you can preserve your natural uncompressed attack and add air back into even the most squashed signal.
VCA Volume Pedal
Premium VCA Volume Pedal

Compadre features a dedicated VCA for its Level control and volume pedal input.
Just connect any TRS expression pedal and you've got a premium VCA-based volume pedal.
No chance for scratchy pots, impedance issues, or tone suck that can affect some other volume pedals.
Compadre really does give you everything you need for the front end of your signal chain.
JFET Input
Class A JFET Input Circuit
Compadre features a premium Class A JFET Input Circuit that delivers exceptional touch sensitivity and dynamic interaction with your guitar or bass, while maximizing headroom and allowing the pedal to achieve a low noise floor.
For Guitar & Bass
Ready for Guitar or Bass

Compadre's frequency response goes all the way down to 20Hz with no high pass roll off (unless Treble or Mid boost EQ curves are used).
This means that floor shaking low notes from a bass can shine through just as strongly as soaring leads or tight rhythms from a guitar.
MIDI Control 
MIDI Control

Integrate Compadre into an elaborate MIDI pedalboard or use it in an ultra-compact setup for easy travel.
Via MIDI, Compadre can store and recall up to 300 presets.
Connect our MIDI EXP Cable to the FAV/MIDI jack to access these features.
Favorites
Everyone has a favorite.

Compadre allows you to save and recall your favorite settings.
Just connect an optional MiniSwitch or other external latching footswitch with a TRS cable to store and recall your Favorite setting.
Or use MultiSwitch Plus to store and recall up to three Favorites.
Precise Level Control
Precise Level Control

Compadre features auto threshold and auto makeup gain to make setting the compressor quick and easy.
If you need to fine tune Compadre's output level when compression is engaged, the Level knob can be used to adjust the output level of the compressor by -6dB to +6dB, with unity gain at noon.
Analog or Digital? We chose both.
From the Class A JFET input circuit, to the VCA-based compression, to the Clean Boost and the diode soft clipping Dirty Boost, every aspect of Compadre's audio signal processing is fully analog, with premium quality components, design, and workmanship throughout. The audio signal is never converted to or from digital.
In Compadre, the digital aspect comes in the form of digital control and programmability. By converting digital control messages to analog control voltages, we can offer full MIDI control and recallable presets while preserving a completely analog signal path from end to end.
Specs
Sound Design
Premium analog VCA (Voltage Controlled Amplifier) compressor circuits
Two voicing options: smooth studio compression and hard pedal style compression
Independently controlled clean or dirty boost circuit with 3 EQ options
Dirty boost option provides overdrive when boost is engaged
DRY Knob lets you blend the dry signal with the compressed signal to preserve attack transients
Ins, Outs, and Switches
High impedance ultra low-noise discrete Class A JFET preamp input
Low impedance mono output
Output VCA allows Compadre to function as a volume pedal when a standard TRS expression pedal plugged into the dedicated Volume jack
Compatible with MiniSwitch for remote selection of a Favorite preset
Compatible with MultiSwitch Plus for remote selection of 3 presets
Full featured MIDI control. Access to 300 presets and remote parameter control via quarter-inch TRS. (requires Strymon MIDI EXP Cable or MIDI > TRS interface)
Audio Quality and More
Selectable True Bypass (electromechanical relay switching) or ultra low-noise Buffered Bypass
Strong and lightweight anodized dark red aluminum chassis
9V DC power supply included. Power requirements: maximum 9 volts DC center-negative, with a minimum of 150mA of current
Compressor Signal/Noise: 109 dB typical
Dimensions: 4.5" deep x 4" wide x 1.75" tall (11.4 cm deep x 10.2 cm wide x 4.4 cm tall)
Designed and built in the USA